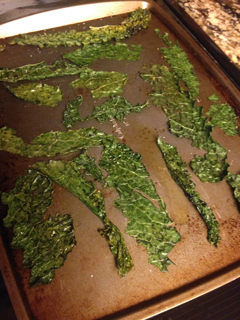 If you have ever bought pre-made kale chips, you might agree that they are not as good as homemade. When I make a batch of these, they usually don't last long. My whole family loves them. These are also my go-to snack for a playdate. Most kids I have met haven't tried them but love them once they do.
Salted Kale Chip Recipe
Ingredients
1

bunch of Kale. My favorite is dinosaur kale but green kale is great too.

1

tbsp.

olive oil

½

tsp

salt
Instructions
Remove the lettuce from the stem. A trick is pinch the stem at the bottom with two fingers. Slowly move your fingers up the stem, removing the leaves as you go. Wash and dry the leaves thoroughly.

In a large bowl, toss the leaves with the olive oil. Then add the salt. Place leaves on a cookies sheet, try not to overlap the leaves. Bake for about 15 minutes at 300 degrees. Store the chips in an air tight container.