Are you eating a real breakfast?
I am a true believer that breakfast is the most important meal of the day. As a child my favorite breakfast was a large bowl full of Fruity Pebbles……or Cinnamon Toast Crunch. Don't the commercials say that they are part of a healthy breakfast? Today we no longer eat boxed cereal in our home. Having cereal for breakfast was so easy but we noticed that we were always hungry just a short time after breakfast and we wanted something less processed.
We love eggs and eat them every single day. As a family we go through over 2 dozen pasture raised eggs from our local farm each week. We enjoy them a variety of ways and one of our favorites is with sweet potato hash.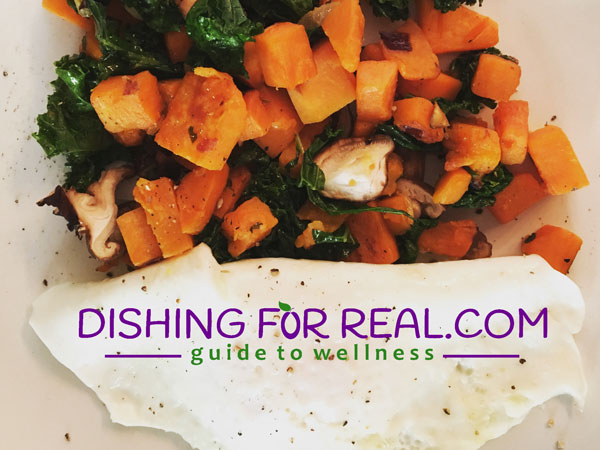 Sweet Potato Hash
1 tablespoon olive oil (butter, or ghee)
1 large sweet potato peeled and diced
¼ cup onion diced
3-4 cups chopped kale that has been rinsed
2-3 pieces of cooked bacon chopped (optional)
1 cup fresh mushrooms chopped (optional)
Salt & Pepper to taste
Melt the oil/butter/ ghee over medium heat
Add the sweet potatoes into skillet
Continue to stir the sweet potatoes and after about 10 mins, add onions. Continue to stir over med heat
When potatoes are slightly tender, place kale on top of potatoes in pan. The moisture from the rinsed kale will create a steam and will help cook the kale
Stir in kale and allow to wilt slightly
Add bacon (optional)
Add mushrooms (optional)
Season with salt and pepper
We serve this topped with over-easy eggs cooked in olive oil or medium poached eggs. You can add a little tomato and avocado on top. Or just enjoy it by itself.
The sweet potato hash can be stored in the fridge. Just warm a little olive oil in a skillet and re-heat on the stove. So double the batch and have part of your breakfast prepped ahead of your busy mornings.
This breakfast is nutrient packed with sweet potatoes & kale and made even better when topped with eggs.
What is your favorite way to start your day? Share your breakfast recipes!