Simple Curry Dinner
Who loves curry? Me too! Haven't tried it? This is a quick and simple way to get started.
About a year ago I was playing with recipes and created a curry base that I can use for a variety of dishes. This is a vegan curry base and can be used for a variety of dinner options.
Simple Curry Recipe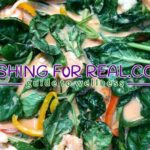 Curry Base
avocado oil
1 small onion sliced
1-2 red / yellow / orange bell pepper sliced
1 tbsp minced garlic
1 tbsp minced ginger
2 tbsp red curry paste
1 can full fat coconut milk
salt
Additions
1 lb protein or additional vegetables ((chicken, shrimp, broccoli, mushrooms, additional peppers are just some ideas))
2-4 cups leafy greens ((bok choy, kale, spinach are great options))
Optional Sides
riced cauliflower
rice
rice noodles
quinoa
Create the Base
Saute the onions andpeppers in the avocado oil for approx 5-10 mins.

Once slightly softened,add the garlic and ginger and mix into the peppers.

Saute for only about a min.

Add the red curry paste and mix to coat the vegetables.

Add the coconut milk and mix together.
Additions
At this time you can add your cooked protein.

With this base you can add additionalvegetables and simmer until vegetables are softened.

Add greens and mix towilt.
Now you are ready to serve your curry dish. Eat alone of serve over cauliflower rice, quinoa, rice noodles, or whatever you enjoy.
This great part about this curry base is that you can use it to make it a dinner more like a soup and leave our some of the additions or add as much as you want. It is fun to experiment with it and delicious in so many ways.
What is your favorite addition to a great curry base?