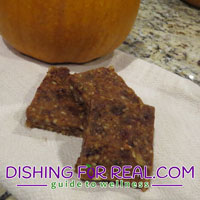 Do you love pumpkin? Are you working to cut out processed sugar? Well these no-bake Pumpkin Almond Date bars are for you!
These Pumpkin Almond Date Bars are sweetened with delicious dates. The dates also provide fiber, potassium, manganese, magnesium, vitamin B6 and so much more. Just remember that dates also contain natural sugar.
Another great thing about these bars is that you just need to use the food processor, parchment paper and a baking dish.
What you need
Pumpkin Almond Date Bars
Ingredients
2

cups

pitted dates

1

cup

raw almonds

½

cup

pumpkin puree

1

tsp

ground cinnamon

¼

tsp

nutmeg
Instructions
Place the almond in the food processor. Pulse several times to chop the almonds

Add dates*, pumpkin and spices to the food processor. Blend until it appears to be a paste with chunks of almonds

Place parchment paper in a baking dish ( I use an 8x8 pan)

Spread mixture evenly into pan

Place in freezer for about 15 minutes

Slice and enjoy

Store in airtight container in the fridge or freezer
These little bites will taste a bit like pumpkin pie. Enjoy these and don't forget to share.
*If you are struggling to blend the dates into a paste, try soaking them in water for about 15 minutes before placing them in the food processor.
Also, if you are nut free, you can omit the almonds and mix in 1 cup of oats (with a spoon) after you create the paste with the dates and pumpkin. These are just as delicious!
We love using dates for sweetness, what is your favorite way to use them?