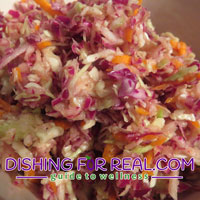 Are you ready for the easiest coleslaw you will ever make? I recently got red/purple and green cabbage in my CSA and I wanted to find something simple to do with it. A crispy coleslaw was the answer, especially this time of year with all the grilling and parties.
This Tangy Coleslaw is full of color and flavor without adding any sugar or mayonnaise. We have eaten this as a side dish, used on fish tacos and hopefully we will be trying it on some pulled pork in the near future.
How To Make Coleslaw:
Tangy Coleslaw Recipe
Ingredients
½

head of red/purple cabbage

½

head of green cabbage

2

large carrots

¼

cup

olive oil

¼

cup

apple cider vinegar

2

tablespoons

of mustard

we do use a store bought German Mustard with no added sugar but you can always make your own

Dash of salt and pepper
Instructions
Shred cabbage. You can either cut it for larger chunks or use a food processor

Shred the carrots

Mix the carrots and cabbage in a large bowl.

Mix the olive oil, apple cider vinegar, mustard, salt and pepper in a small bowl.

Pour the dressing over the cabbage mixture and toss.

Can be served right away or chilled and served.
Notes
I am not a fan of mustard but the mustard in this recipe just adds a little flavor to the cabbage that is not overpowering.
What are your favorite ways to use coleslaw in the summer months?
Add to your favorite sandwich?
Add to tacos?
Eat as a main dish?
On Top of your favorite grilled meat?
Please share with us your favorite way to enjoy coleslaw and we may try it and share right here!!