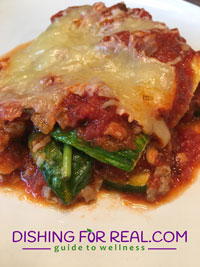 Do you love lasagna and want to get more vegetables in your diet while cutting out some grains? Try this Zucchini Lasagna!
Creating the zucchini noodles is easy. All you need to do is thinly cut the zucchini; no special tools are required for this dish. Start enjoying it today!
Zucchini Lasagna
Ingredients
2 -3

medium zucchini

sliced lengthwise

1

tablespoon

olive oil

1

lb

ground turkey

1

tsp

oregano

1

tsp

basil

½

tsp

fennel seed

Dash Salt

Dash Pepper

1

cup

mozzarella cheese shredded

approx. 4 oz.

½

cup

parmesan cheese shredded

1

cup

raw spinach

tightly packed in measuring cup

1

jar of favorite tomato sauce

no sugar added (approx. 25 oz.)
Instructions
To create the zucchini noodles: Preheat oven to 400 degrees. Slice the zucchini lengthwise and brush with olive oil before placing on baking sheet. Cook in oven for approximately 15 mins or until tender

While the noodles are baking, it is time to brown the meat over medium heat. Add turkey to a sauté pan and add oregano, fennel, basil and salt and pepper. Cook thoroughly

Now it is time to layer the lasagna in a 9 x 13 glass baking dish. Start with a very small layer of sauce. Add half of the zucchini, arranging noodles to cover the entire pan. Add half of the meat mixture. Top with half of the sauce. Add all of the spinach. Add ½ cup of mozzarella, add ¼ cup of parmesan. Make sure all the ingredients are spread across the full length of the pan.

Repeat for the second layer (without spinach) zucchini, meat, sauce and cheese.

Bake at 350 degrees for approx. 45 mins.
This is a version of the lasagna with little cheese compared to traditional recipes. Feel free to adjust the recipes if you are a cheese lover and would like more.
Try not to let your mouth water while it bakes. You can serve this immediately when done.
Do you have any other ingredients you love in lasagna? Please share!