Halloween is approaching and for many kids that means candy and sugar overload. There are Halloween candy alternatives. As we have transitioned our home to a healthier one, our offerings to our neighborhood children have changed. Even the "treat" my 5 year old brings to school is non-candy.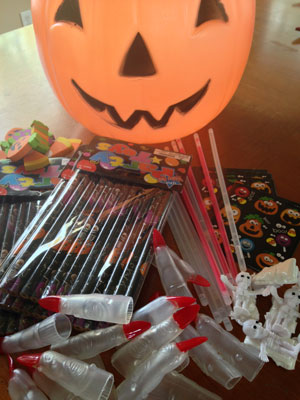 I will be honest, my husband was a little fearful that we were not going to give out candy last year, so we did have a little. It was our first Halloween in a new neighborhood and a new state, he was worried no one would want to come to our house. Boy was he wrong. We had pencils, fang teeth, and stickers. For food, I did buy one bag of candy and some fruit leather.
The number one thing to go were the fang teeth. Kids of all ages were so excited. Next, which actually surprised me, were the pencils. Kids loved them, boys and girls.
Then of course there were some kids who only wanted candy. I realized that they were getting plenty elsewhere, so if they were disappointed at my house, it wouldn't last long.
Update 10/18/16- I did decide this year to not buy the fang teeth. Once I began to think about the plastic that was being put in children's mouths, I decided they weren't such a great option. I also like the non-food items that have a purpose if possible.
What are some healthier food options for the trick or treaters?
Fruit leather
Bottle of water
Raisins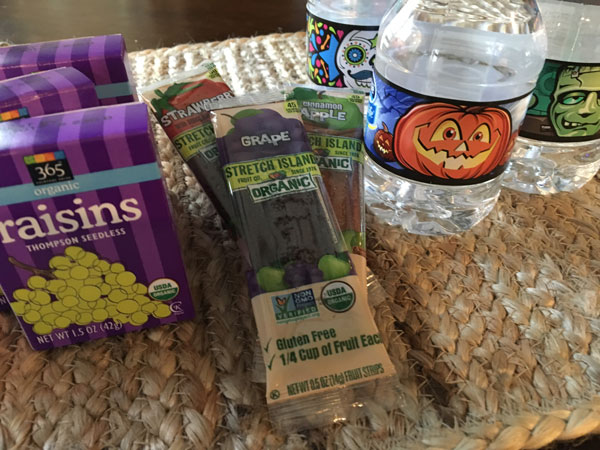 What about non-food items?
Glow sticks, my son is way too excited for these!
Pencils . I love that these were choices for so many kids. I remember one boy was so excited and told his friends about it. Never expected that!
And for the little ones, I always have stickers.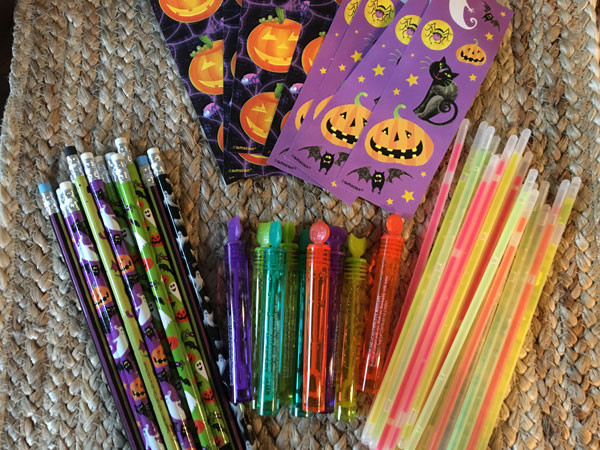 Other Halloween non-candy items include:
Kids activity pads
Erasers
Bubbles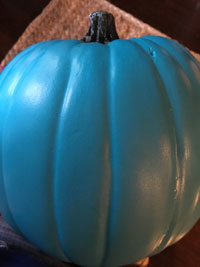 I will also be displaying a teal pumpkin on my porch. This is part of the Teal Pumpkin Project that is promoting non-food treats for children with allergies. This helps children and parents identify homes that are safe for children to go to for allergies. I love this!
You can paint a pumpkin teal and place it on your porch or download a sign here.
Update 10/18/16: This year I was able to find a teal pumpkin at a local craft store.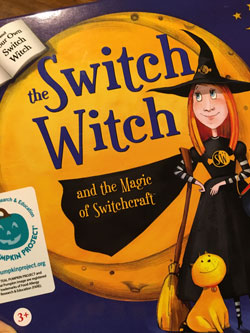 If you are concerned that your children have gotten too much candy, have the Switch Witch come and visit. On the night of Halloween have your children put their remaining candy out for the Switch Witch to arrive and trade it out for a special gift. There is a great book to go along with it.