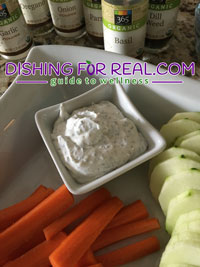 I am a girl born and raised in Wisconsin and ranch dressing is everywhere. It is used almost as frequently or even more than ketchup for some. I threw this together for my family to enjoy the flavors but not all of the extra ingredients added.
Have you ever turned over your favorite ranch mix packet to see what it is made of? Here is an example of a popular brand.
Ingredients: Maltodextrin, Buttermilk, Salt, Monosodium Glutamate, Dried Garlic, Dried Onion, Lactic Acid, Calcium Lactate, Citric Acid, Spices, Artificial Flavor, Xanthan Gum, Calcium Stearate, Carboxymethylcellulose, Guar Gum.
Sound delicious? Not really.
One of my favorite things to do for my family is to put out a platter of raw vegetables for snack time or dinner with a side of ranch dipping sauce. It isn't your typical ranch because it is better and you control the ingredients.
Ranch Seasoning
Ingredients
1

teaspoon

dried parsley

1

teaspoon

dried dill

1

teaspoon

dried basil

1

teaspoon

dried oregano

½

teaspoon

garlic powder

½

teaspoon

onion powder

Dash of salt and pepper
Instructions
Mix the ingredients into an airtight container
Notes
Additional ingredient for a dip:
1 cup plain yogurt (I use full fat)
1. Add the ranch seasoning mixture to the yogurt and stir. Enjoy!
What else can you do with the ranch seasoning?
Use it to make your own salad dressing—Mix equal parts of olive oil and apple cider vinegar and add a portion of the seasoning (your preference) and mix.
Season your favorite fish or chicken
Add a little seasoning to your favorite potatoes
Pinch some in your favorite vegetable soup for some more flavor
What is your favorite thing to do with ranch seasoning?