Do you want to start meal planning but you feel overwhelmed and don't know where to start? It is easier than you think! The best thing to do is to just start and you can modify your process as you go along.
Sit down with our template to get you started. You don't have to plan every meal of the day but eventually you can.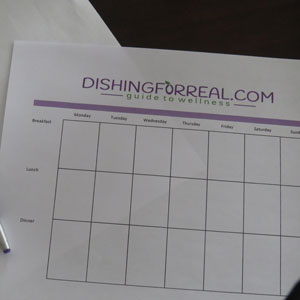 Why meal planning is so important?
Saves Time-you are not running to the store every day or going out to eat every night because your meals are planned.
Saves Money-have you ever gone to the store hungry or without a list, you end up with more than you need and also you save money by eating and cooking at home.
Increase Variety- By mapping out your meals you can make sure you are getting a variety and you can try new things.
More nutrition- Meal planning will get you in the kitchen, you can control the ingredients and make sure your meals are nutritious.
Reduces Stress- You won't be wondering all day what you are going to eat for dinner, what you might have for lunch or if you have to go to the store.
You can begin your process by cataloging some of your favorite recipes that you have seen in cookbooks, magazines, facebook, pinterest…etc. You know you have so many to try, now is the time.
Once you have recipe selected, we have some tips to make meal planning a little easier.
Tips for Family Meal Planning
Create a schedule to plan, purchase and prep- this is key. The more you can prep, the easier the process will be
Prepare extra servings – make more for lunches or a second dinner.
Make ahead and freeze- Use your prep time to cut up extras or make freezer meals for later in the week.
Start with your favorite recipes- Start simple and cook what you know as time goes on and it becomes easier, incorporate and try new foods/dishes
Always shop with a list- The last thing you want to do is have to run back to the store for a missing ingredient
Use ingredients in more than one meal – Roast a chicken and make broth for a soup, use your chopped vegetables for a salad and your morning eggs, the goal is to eliminate food waste and save money, which is easy to do when you plan ahead.
Don't try to be a gourmet chef- this is not required to cook in your kitchen. And some of the best recipes are the simplest ones.
Plan a leftover night- Don't forget to plan time to eat your leftover food.
Now you have the tools to get started, don't forget the 3 steps.
Plan
Purchase
Prep
Happy Meal Planning!