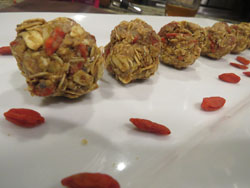 Have you tried goji berries yet? Check out these amazing oat balls filled with flavor and the sweetness of goji berries.
These little berries are packed with nutrients. Goji berries not only are filled with vitamin A, vitamin C, iron, fiber but the list goes on. They also contain 18 amino acids and 4 grams of protein in a 1 ounce serving.
This recipe calls for rolled oats which not only provides fiber but this whole grain is also rich in vitamins, minerals and antioxidants.
In addition to the goji berries and rolled oats this snack is filled with almond nut butter which is another great source of protein, vitamin E, magnesium and so much more.
Adding chia seeds adds additional fiber, protein, omega 3 fatty acids, magnesium, calcium and that is just the start. So add them on and enjoy. What about flax seeds? These again add fiber and protein but also magnesium, manganese, vitamin B1…the list doesn't stop there!
These Goji Oat Balls can be made in less than 10 minutes!
Goji Oat Balls Recipe
Ingredients
1

cup

rolled oats

1/3

cup

goji berries

¼

teaspoon

cinnamon

½

teaspoon

vanilla

1

tablespoon

raw honey

½

cup

almond butter

1

tablespoon

chia seeds

optional

1

teaspoon

ground flax seed

optional
Instructions
Mix the honey and vanilla in a small bowl and set aside

Add the oats, goji berries, cinnamon, chia seeds, ground flax seed to a medium sized bowl and mix

Add the honey/vanilla mixture to the bowl and mix

Add the almond butter and mix

Roll into ball shapes, recipe makes approx. 12
Can't find goji berries, check out our
online store right here on Dishing For Real
.
These Goji Oat Balls make a great snack to add a little protein and fiber to your day or to satisfy a sweetness craving. Let us know what you think! What is your favorite way to enjoy goji berries?