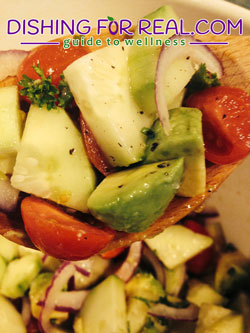 Looking for a summer salad that can be made in minutes? Look no further than this delicious Cucumber Tomato Avocado Salad. Crisp vegetables topped with the vinegar and oil makes this light salad a favorite!
Using cucumber is a great way to add some crisp into a salad that doesn't have a base of raw greens. This salad is full of flavor and filled with simple ingredients. Enjoy this Cucumber Tomato Avocado Salad today.
[yumprint-recipe id='32']This Cucumber Tomato Avocado Salad is great for picnics, barbeques, or a quick lunch. Unlike many salads, this tastes great as a leftover too. Don't wait too long to try this one!