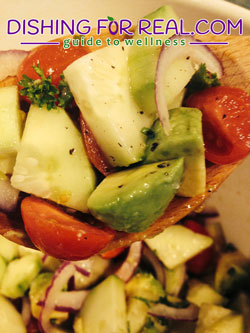 Looking for a summer salad that can be made in minutes? Look no further than this delicious Cucumber Tomato Avocado Salad. Crisp vegetables topped with the vinegar and oil makes this light salad a favorite!
Using cucumber is a great way to add some crisp into a salad that doesn't have a base of raw greens. This salad is full of flavor and filled with simple ingredients. Enjoy this Cucumber Tomato Avocado Salad today.
Cucumber Tomato Avocado Salad
2016-06-10 11:43:06
Ingredients
1 cucumber
1 handful cherry tomatoes
1/4 small purple onion
1 avocado
1 tablespoon olive oil
1 tablespoon apple cider vinegar
¼ cup parsley (optional)
Salt
Pepper
Instructions
Peel, slice and chop the cucumber. Add to a large bowl
Cut cherry tomatoes in half, add to the bowl
Thinly slice the onions and add to the bowl
Cut of the avocado and add to the bowl
Chop the parsley and add to the bowl
Add the vinegar and oil to the the bowl and toss
Season with salt and pepper and toss
Dishing For Real https://dishingforreal.com/
This Cucumber Tomato Avocado Salad is great for picnics, barbeques, or a quick lunch. Unlike many salads, this tastes great as a leftover too. Don't wait too long to try this one!