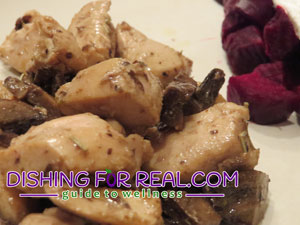 I have a husband who is not a fan of plain chicken but really who is. I am always working to create something quick, new and flavorful and I found a winner with this Coconut Creamy Rosemary Mushroom Chicken.
Whether fresh or dry, rosemary partners wonderfully with many things, including chicken and mushrooms. Did you know that rosemary contains Manganese, iron, fiber and B vitamins? Enjoy more of this delicious herb.
Coconut Cream Rosemary Mushroom Chicken
Ingredients
2

cooked chicken breast diced

2

cups

chopped mushrooms

use your favorite

2

teaspoons

dried rosemary

1

tablespoon

butter or ghee

3

tablespoon

cream from coconut milk*

Salt and pepper to taste
Instructions
Add the butter to a medium heat skillet

Once the butter is melted, add the mushrooms and sauté for several minutes

Add the rosemary and chicken to the mushrooms

Mix in the coconut milk

Add salt and pepper to taste
Notes
Serve with your favorite vegetables.
*to get the cream of coconut milk: refrigerate the can of coconut milk for 24 hours. Once you open the can, the cream will be on top. Scoop out the cream and add to the dish. Use the remaining cream to make Whipped Coconut Topping for your favorite fruit or add to your morning coffee.
Why do we love mushrooms so much? Here are just a couple reasons depending on the variety you select:
A boost to your immune system
Cancer fighting
Weight management
Anti-inflammatory
Good source of vitamin D
Remember when shopping, you may only find some versions in dried form. They are still easy to use in cooking, so don't pass them up.
Which do you like best? Oyster, chanterelle, maitake, shitake, portabella, cremini, procini….plus so many more!
So next time you considering avoiding them in a recipe or picking them out of a dish. Think of the benefits you are missing.