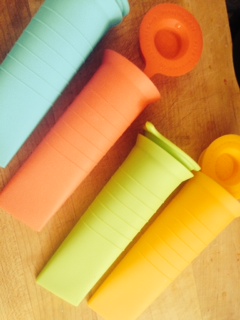 It is hot! The kids are asking for popsicles and the house is overflowing with fresh fruit, so what do you do? Make your own with our Kinderville Ice Pop Molds. These are one of our favorite things, especially during the hot summer months.
Not only do we avoid the artificial coloring and processed sugars that are found in most store bought brands, the molds we use silicone and are BPA, phthalate & lead free. Why is that important?
What is BPA? According to the World Health Organization, Bisphenol A (BPA) is a widely used chemical in polycarbonate plastic and epoxy resins. In 2015, there was a unanimous vote to add BPA to California's Prop 65 list based on the evidence to support the claim that BPA is toxic and can cause reproductive issues in women. Read Here
What are phthalates? They are chemicals used to help plastics be more flexible. According to the FDA, phthalates can be found in numerous products like: cosmetics, toys, food packaging, soaps, shampoos, floor coverings and many more. In 2013, the Environmental Working Group added phthalates (also BPA) to their list of 12 hormone altering chemicals. Read Here
What is lead? It is a naturally occurring element and can be found in soil, water, and even the air. According to the CDC, there is no acceptable blood level of lead for children. One way to avoid additional exposure to lead is to purchase products that are lead free. Read here
Now that you have your Kinderville Ice Pop Molds, what you do you do with them?
We use many of our favorite smoothie recipes to make a flavorful ice pops.